Tavrida Electric Vacuum Circuit Breakers (VCB)
TRUSTED VCB MANUFACTURER

Tavrida Electric is a world-class manufacturer of medium voltage switchgear such as Vacuum Circuit Breakers. After 30 years on the market, the VCB series install base has reached 500,000 units worldwide continuing to resolve most ambitious customer problems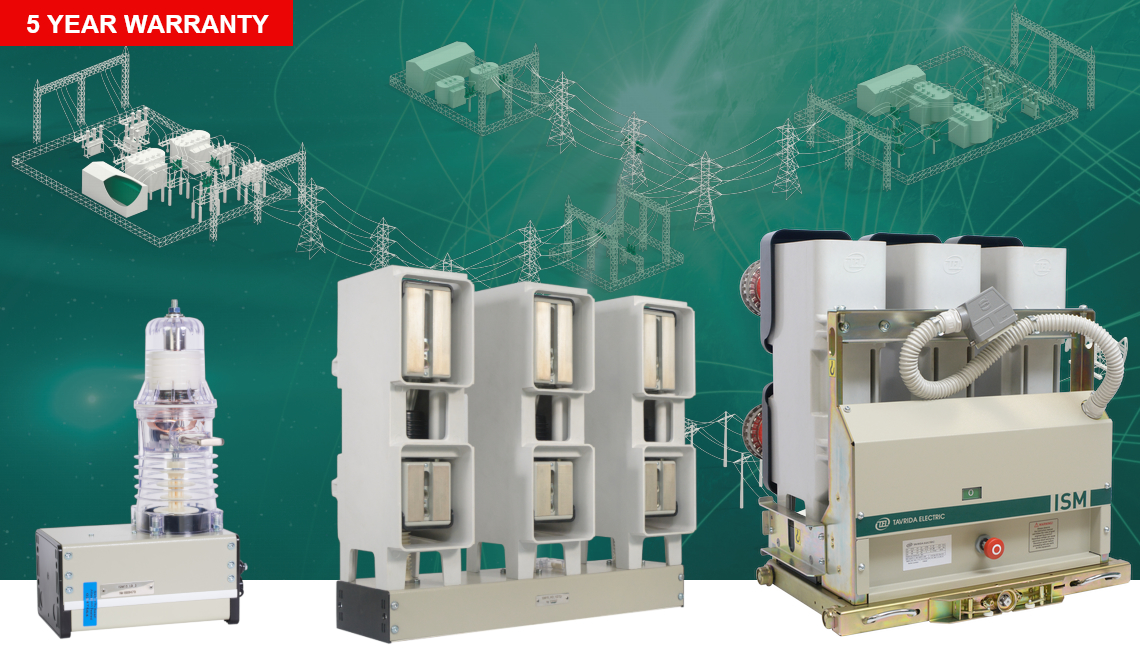 Rated Currents from 800 A to 3 000 A

Single and Three Phases VCB

Rated Voltage from 6 kV to 35 kV

Fixed and Withdrawable VCB Types

Rated Short-Circuit Breaking Current up to 31.5 kA

Intentory in Stock - Ship in a Couple of Days

SIMPLICITY IS PERFECTION
The Tavrida Electric VCB series contain the most unique design elements of any MV breaker on the market.
All components are assembled along a single axis, with mono-stable magnetic actuator (one per pole). The actuators drive a pulling insulator that, in turn, connects to the advanced Tavrida vacuum interrupters at the top of the breaker.
In comparison with conventional circuit breaker that allowed to:
Reduce number of mechanical parts by 2-3 times.
Exclude gears, bearings, levers and other rotating parts prone to failure.
Achieve unique set of feautures and characteristics.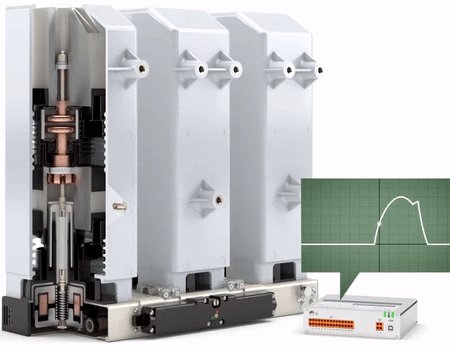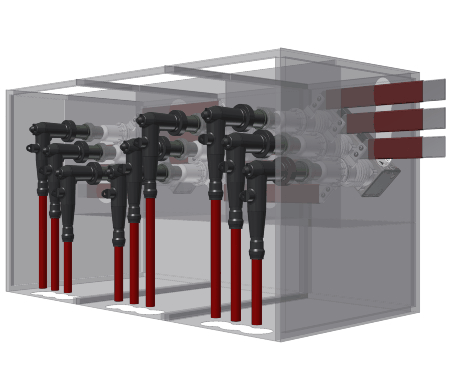 DESIGN YOUR SOLUTIONS
Tavrida Electric cooperates with more than 300 switchgear manufacturers and retrofit solutions providers worldwide.
Over many years of cooperation, Tavrida Electric VCBs have proved versatile and easy-to-use for both new and existing switchgear panel designs, as well as for retrofit solutions.
Tavrida Electric VCB series circuit breaker is so revolutionary — because its features allow you to design unique solutions.
Conformance to the latest IEC standards

Circuit breakers are designed and third party tested to the latest IEEE 37.04, IEEE 37.06, IEEE 37.09, CSA C22.2 and IEC 62271-100 standards.
Long life and high reliability

No maintenance needed during the whole lifespan of 30 years
Up to 100 000 close-open cycles
Versatility and flexibility

Smallest dimensions and lightest weight on the market.
Any circuit breaker orientation.
Standard and optional accessories that allow easy and fast installation.
The Most Precise Circuit Breaker

Reliable vacuum circuit breakers with precise opening/closing time of 35/70 ms. Closing/opening time deviation is only 1 ms in 20 years of operation.
Low auxiliary power consumption

Significant savings on auxiliary power supply and equipment ≤42 Watts during capacitors charging (max 7s).
Continuous self-supervision

Vacuum circuit breakers equipped with the CM16 control module continuously monitors control, switching modules, functional wiring and auxiliary power supply quality.
Environmentally Friendly

Tavrida's vacuum circuit breakers use SF6-free- and oil-free vacuum and solid insulation technology.
THREE-PHASE SPECIAL SOLUTIONS
Tavrida Electric has revolutionised circuit breaker design by developing a new generation of circuit breakers and controls with exceptionally fast opening, closing and response times.
Fast Transfer Switcher
With transfer times as fast as 2 cycles. Such quick operational times allow very sensitive loads to operate without interruption in the case of a main power source loss. The fast transfer switch solution:
Eliminates costly downtime
Reduces production equipment stress
Ensures quick return on investment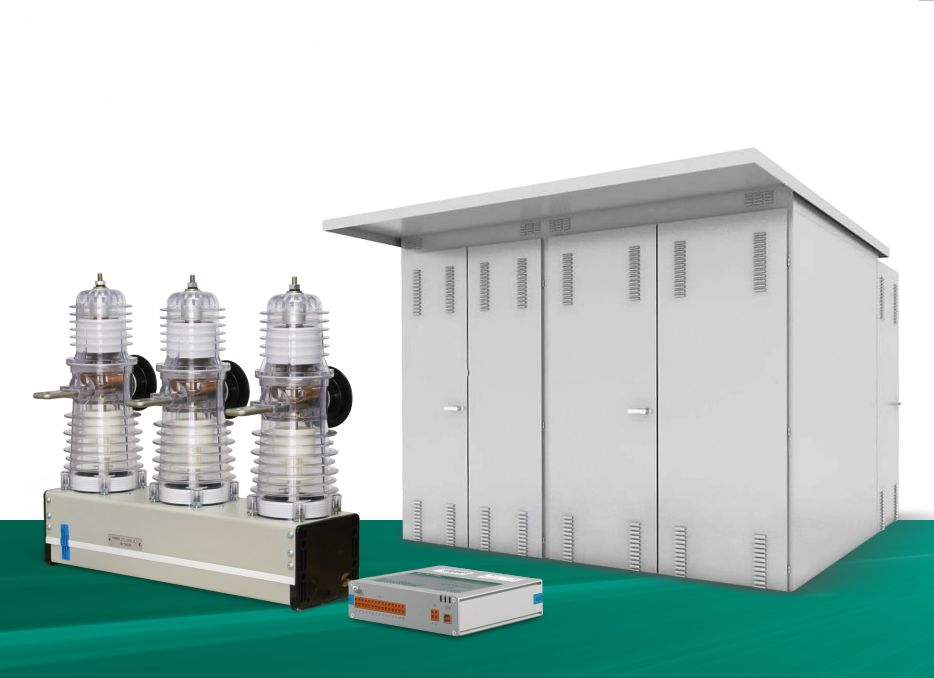 Arc Flash Mitigation

With interruption in one period. That quick interruption time:
Increases operational safety
Reduces switchgear restoration time and loss of productivity
Reduces costly downtime
Limits switchgear damage and repair costs
Fault Current Limiter

Sub period interruption time limits short circuit current effectively by quickly disconnecting distributed generation sources from the grid.
Allows more distributed generation, to be connected to the grid
Limits fault current
No operational losses
Enables automatic distributed generation sources reconnection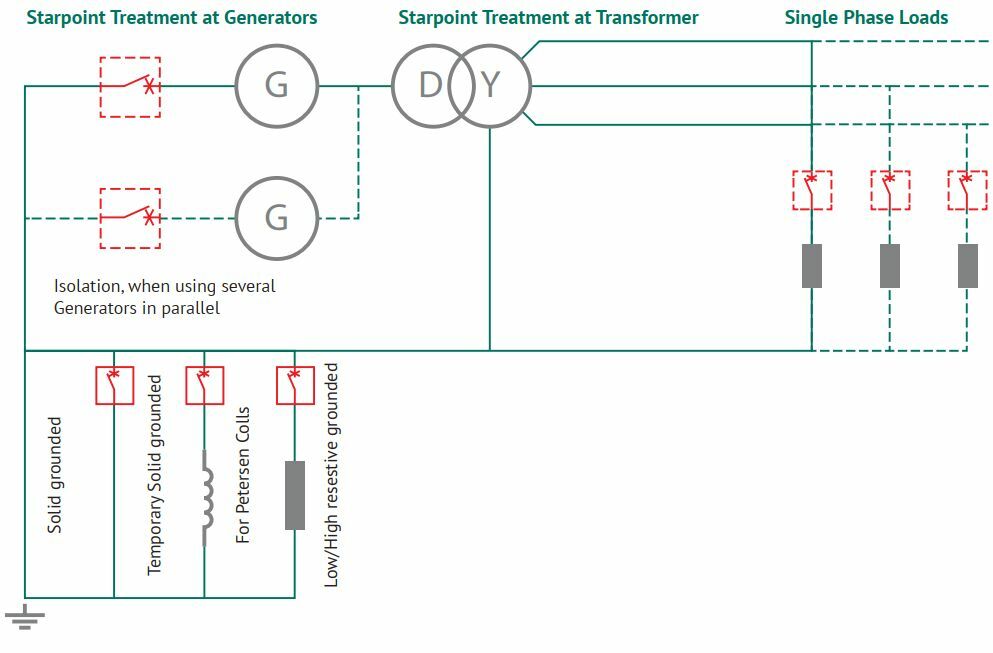 SINGLE-PHASE SPECIAL SOLUTIONS
Tavrida Electric's circuit breakers are the perfect match for applications like transformers or generators with a neutral earthing, server rooms and point on wave switching.
Single Pole VCB Neutral Treatment Utilities

Starpoint treatment at generators Isolation, when using several generators in parallel.
Starpoint treatment at transformer for switching and bypassing transformers' neutral grounding devices like resistor, reactor, Peterson coil.
Single Phase Load Switching

Single phase vacuum circuit breaker could be implemented by various customers which have single phase loads, 4-wire distribution networks which have single phase loads to be operated independently:
Power utilities
Enterprises
Public buildings
Controlled Switching

Controlled switching is a technique of switching the electrical circuit on a specific point of a sin-wave – voltage or current, to minimize:
switching transients and associated inrush currents
voltage disturbances
re-strikes and arc re-ignitions
Controlled switching main applications:
Mechanically switched capacitors (MSC)
Mechanically switched reactors (MSR)
Transformers
Hybrid STATCOMS
Power consuming drivers
Shunt reactors
Starting and Braking Resistors

Tavrida Electric vacuum circuit breakers are also applicable for starting and braking resistors switching and protection in:
Railway
Cranes
Conveyors
Mills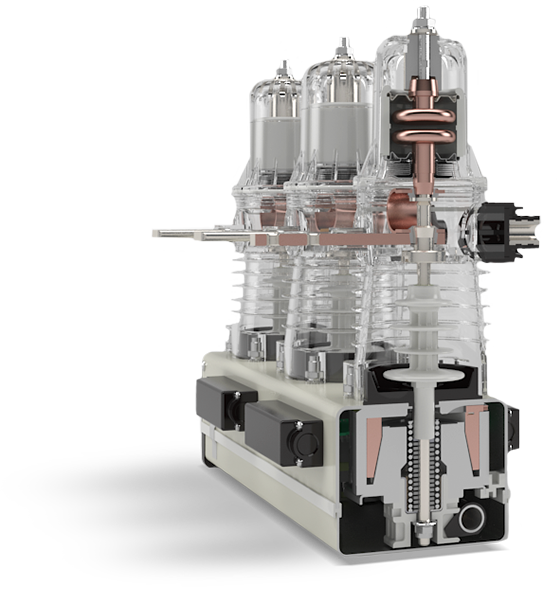 Tavrida Electric manufactures small, compact vacuum interrupters with an extraordinarily long mechanical and electrical lifespan. A specially designed axial magnetic field distribution provides an even current density over the contact surface, substantially improving the vacuum interrupting performance.
Vacuum interrupter contacts have unique design, based on the mixture of copper and chromium metals and various dopants, to ensure long electrical life of contacts, low contacts resistance and chopping current.
The patented, super-compact actuator design allows the circuit breaker to be installed directly underneath each pole. The design is optimal in terms of reliability, dimensions, weight and ease of installation.
A spring charged by the magnetic actuator during the closing of the circuit breaker ensures main contacts pressure is maintained. The spring is integrated in the actuator and does not require any maintenance during the circuit breaker's lifetime.
Circuit breaker terminals are designed to reduce contact resistance and mitigate the risk of contacts overheating.
The use of robot welded steel discs as opposed to folded bellows eliminates the main failure point of conventional circuit breaker designs and allows interrupter to do more than 150,000 CO cycles and contain high vacuum (10-6 Pa) for the entire lifetime.
Tavrida Electric realized early on that the complexity and bulk of conventional operating mechanisms made them unreliable and reduced their lifespan. Every Tavrida Electric circuit breaker uses patented actuators designed and fabricated within our own facilities to drive the interrupter contacts. All switching elements of a pole are assembled along a single axis meaning all mechanical movements are direct and linear.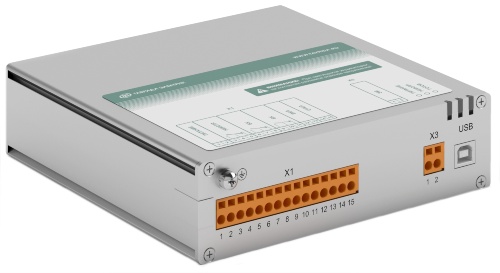 Continuous Self-Supervision

Vacuum circuit breakers equipped with the CM16 control module continuously monitors control, switching modules, functional wiring and auxiliary power supply quality. CM16 eliminates the necessity of additional trip and close coils, charging mechanisms and all related wiring supervision. The entire trip and close circuit supervision comes in single package with any Tavrida Electric VCB. CM16 allows the user to forget about scheduled trip and close wiring inspections - as in the event of malfunction corresponding notification will be sent to the operator using one of the inbuilt output relays and indicated by inbuilt in CM LEDs.
Low Power Consumption

Vacuum circuit breakers equipped with the CM16 control module need less than 42 W in charging mode – just 10% of what the best alternatives available on the market need! Such low power consumption finally solves the problem of auxiliary power supply – much less powerful source and UPS can now provide substation auxiliary equipment with required power.
Ease of Use and Robustness

CM16 type control modules are connected with the circuit breaker they control and supervise be means of simple wires. It allows the CM installation to be located at any position convenient for the OEM, system integrator or End-user location. Very compact dimensions and low weight further simplify the process. CM16 has a robust design, enclosed in an aluminium housing it provides high EMC level confirmed by KEMA test laboratories.
HIGH PERMORMANCE MANUFACTURING CULTURE

Manufacturing innovative products is only feasible with unique manufacturing techniques. Merely purchasing machines and equipment available in the market is not enough. To create its truly unique products, Tavrida Electric has developed revolutionary manufacturing processes.