Automatic Circuit Reclosers 15 – 27 kV
Tavrida Electric presents Automatic Circuit Reclosers
Best value for the money
With maintenance-free design rated to perform 30,000 open and close operations, Tavrida Electric reclosers keep expenses to a minimum over their entire lifespan. They are installed on typical overhead feeders, significantly improving a network's key performance indicators and their use results in a quick return on investment.
Sophisticated control and protection
Tavrida Electric reclosers provide protection from various faults, including: short circuits, earth faults, high impedance earth faults, broken wires, islanding, incorrect tap changer operations, network overload and over- or under-generation. Embedded RTU and metering ensures the reclosers are SCADA-ready with no additional expenses.
Plug and play
To ensure a recloser operates efficiently, Tavrida Electric experts analyse the system, identify the most feasible locations for installation and forecast the expected network performance improvement. To further simplify network automation, Tavrida Electric will calculate, upload and test protection settings prior to site delivery. This ensures efficient commissioning.*
TELARM® Dispatcher and Dual-SCADA
TELARM® Dispatcher is proprietary remote control and monitoring system that works as a standalone SCADA and/or in parallel with an existing SCADA system, acting as a back-up method of controlling and monitoring reclosers. TELARM® Dispatcher offers a number of features not available with most conventional SCADA systems, such as remote access to system logs, fault and load profiles and the remote control of protection settings.
Feeder Automation

Radial line recloser
When a recloser is installed on a radial feeder it automatically clears transient faults and isolates permanent faults. More than one recloser can be installed on a feeder to isolate faults selectively and ensure fewer customers are affected.


Loop recloser
A loop recloser further improves the reliability of a power supply by automatically reconfiguring a network in the event of a failure.
DESIGN AND OPERATION
Outdoor switching module - OSM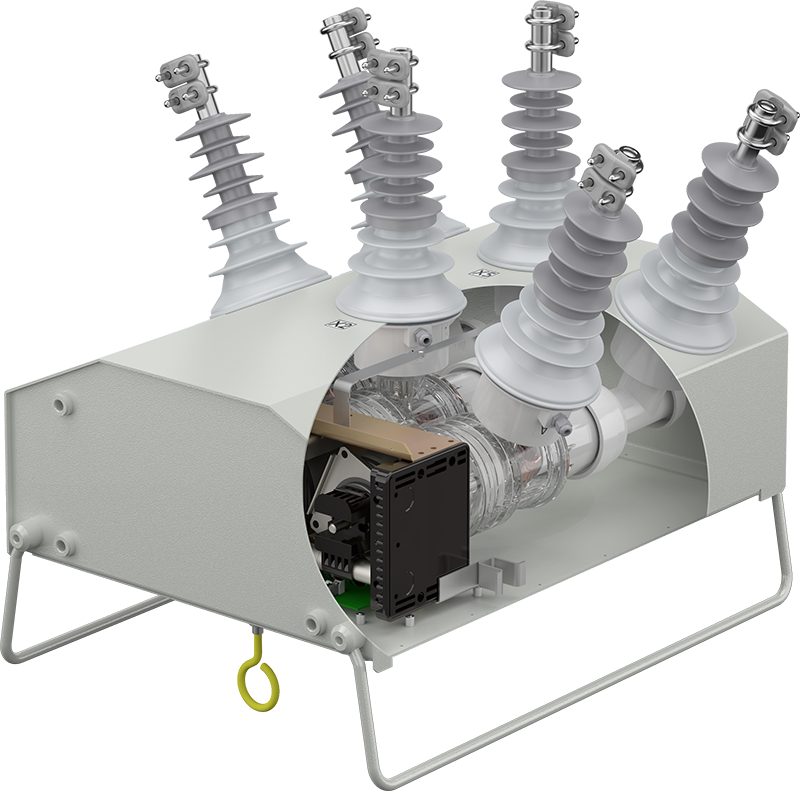 1
2
3
4
5
Air insulated OSM incorporates a Tavrida Electric vacuum circuit breaker with a per phase actuator, housed in a corrosion resistant tank. Six main circuit bushings, made from UV-stable polymer, are covered with silicone rubber bushing boots. Each bushing has built-in current and voltage sensors for protection, measurement and indication purposes.

The OSM is equipped with six, high voltage bushings with embedded current and voltage sensors. Current sensing is performed by Rogowski coil sensors. Capacitive sensors are used for voltage measurement in all six bushings.

More

Tavrida Electric manufactures small vacuum interrupters with extremely long mechanical and electrical lifespans. A specially designed axial magnetic field distribution provides even current density over the contact surface and significantly improves the vacuum's interrupting performance. Carefully selected contact material, expert contact design and optimised switching result in bounce-free closing.

More

The OSM is equipped with Tavrida Electric's innovative and much simplified vacuum circuit breaker. It uses three single-coil actuators; one per pole. All switching elements of a pole are assembled along a single axis meaning all mechanical movements are direct and linear. Three actuators are installed in a steel frame and linked by a synchronizing shaft.

More

A mechanical trip hook is located at the bottom of the tank. The OSM remains locked and cannot be operated until the trip hook is pushed back into the operating position.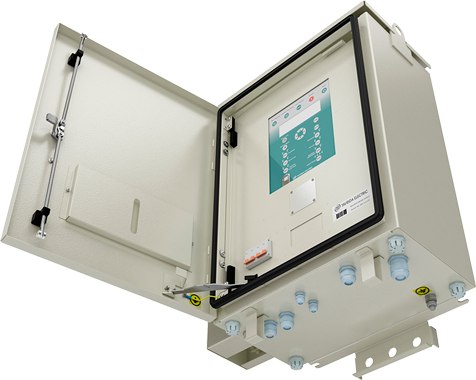 Recloser Control Cubicle - RC
Protection and automation

Various protection elements: Directional overcurrent, earth fault and sensitive earth fault, over- and undervoltage, over- and underfrequency, current and voltage unbalances; separate autoreclosing elements, automatic backfeed restoration, voltage reclose control and many more.
Measurements

The recloser can measure phase, neutral and sequence currents, phase-to-phase and sequence voltages and three-phase active and reactive power and energy. Key measurement data can be logged.

Communications

The control cubicle has various communication interfaces and can be connected with any third party modem via RS-232/RS-485 or the Ethernet using various communication protocols, including Modbus, DNP3 and IEC-104.

Large battery

48hrs operation battery, charged by smart battery charger and maintenance free for up to 10 years.

Monitoring

Highly comprehensive, remotely accessible separate log files for load and fault profiles, events, malfunctions, lifetime and change messages.

Control cubicle

- the recloser control cubicle is made from lightweight powder-coated anodized aluminum,

- the control panel has a graphical LCD for clear event indication, comprising six-lines of 40-characters,

- smart battery charger and 48hrs operation, maintenance free for up to 10 years.

User software

The Tavrida Electric Automated Relay Manager (TELARM) is designed for the specific needs of electrical distribution networks. It allows:

- downloading of logs, profiles, oscillograms, settings, etc,

- uploading protection, communication and systems settings,

- recording of logs (event, malfunction, communication etc) and detailed fault profiling,

- the customising of a control signal map for a customer's SCADA applications.

* please consult local representative for additional information on these services.