Tavrida Electric Export custom design projects around the world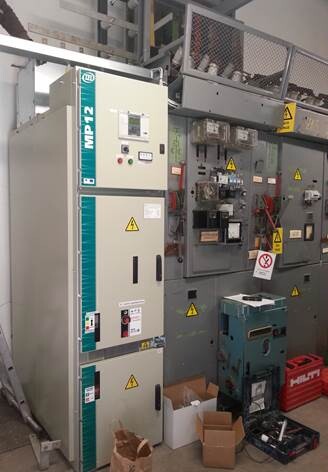 The recent year has proven to be a real challenge but at the same time, very productive for Tavrida Electric Export. Tavrida Electric Export achieved most of our main goals: increased sales, increased order intake and production output by a significant margin. The defining factors to such growth were:
Smart and clear management in our key regions, enabling successful implementation of our major projects which helped further secure the trust and loyalty of our clients;
Acquirement of approvals in new markets, allowing Tavrida Electric Export to increase our regional presence;
Further solidifying our position in existing markets, by working closer with our key partners and diversifying our product line to better meet the needs of end-users;
Experienced engineers, who work on finding optimal solutions and in cases of limited budget, the best alternatives;
Innovative designers – 3D modelling in the shortest timescale, engineering any immediate challenges by refining our current and new designs;
Professional workshop and manufacturing line - fully optimised for serial production and always ready for new, custom projects, requiring a flexible mind and technical prowess.
During the last year Tavrida Electric Export performed more than 50 projects that involved design, project evaluation, post-project supervision, testing and support. Most projects, while having differences in secondary design due to existing on-site equipment, SCADA, communication options or regional specifications, may be specified as a standard solution. While this is true for most projects, some projects deviate fr om the standard and typical solutions. Tavrida Electric Export is highly flexible in this regard and always ready to meet the needs of our client, by taking on new challenges and dealing with non-standard solutions. We offer personalised solutions to our clients that adhere to their complex demands and multitude of specific requirements. Such projects pose the most difficulties for a manufacturer, as the solution has to be custom made in almost every aspect. An example of such a project is the recently completed supply of customised switchgear cubicles for a major aluminium producer in the U.A.E. – Dubai Aluminium (DUBAL).
This custom project was finished in a very short timeframe – 10 weeks, starting from project solution development to the finished product. The switchgear was assembled, fully tested, FAT procedure conducted and witnessed by the client, fully packed and ready for shipment. The project introduced the following requirements and challenges that had to be met and resolved by TEE engineers:
Motorised draw-out unit for full remote control and operation;
Top installation earthing switch (two sets of ES per cubicle – outgoing and incoming cable);
Anti-ferroresonance protection unit placement outside of cubicle in a special ventilated case;
Mechanical interlock for top installation ES with specific lock/unlock logic (use of Castell Key solution) and interconnection with the draw-out unit interlock;
Selective arc protection;
All of the above, in addition to the general specifications of the U.A.E. energy utilities, have been successfully implemented, manufactured and tested by Tavrida Electric Export. Representatives from DUBAL have visited the Tavrida Electric Export factory to witness the FATs, have accepted the project and confirmed the procurement of switchgear to the U.A.E. The switchgear will be installed as an extension to the existing 3.3kV switchboard and serve to carry additional load to meet the needs of DUBAL. The Tavrida Electric Export solution has proven to be very flexible as the switchgear facilitates both incoming and outgoing cables with an earthing switch for both cables.
Another bespoke project was undertaken for a local client in Tallinn, Estonia – Ravala substation (Elektrilevi OÜ), which is located in the very centre of Tallinn's business district. The Project involved only one SG15_Mile cubicle, but once again it needed a custom solution according to our client's specific request. A new feeder needed to be added to an existing switchboard with obsolete switchgear utilizing fixed circuit breakers and a specific busbar system. The particulars and limitations were as follows:
Difference in height of switchgear and uncommon busbar system (mains) made it impossible for a straight connection between them;
Existing placement of switchgear made it impossible for any side or rear attachments;
Limited space
Limited time
The time limitations presented to Tavrida Electric Export meant that the switchgear cubicle upon placement should be ready for an external connection immediately, allowing the cable and busbar connection to be conducted at the same time to minimise the downtime. The most feasible solution developed by our engineers was to make a connection to an existing busbar bridge that was almost 2 metres above the switchgear. An additional top installation was designed that provided a comfortable, stable and protected connection (additional insulation was placed on busbars). This enabled all the work to be done outside of the cubicle without the need to dismantle anything. The project took 10 weeks including design, assembly and procurement, and only one week after installation the panel was fully commissioned.
Every day Tavrida Electric Export encounters different challenges that require fast-paced, but at the same time, quality solutions. We closely collaborate with our clients on every project, working with them on new requirements or helping them with existing installations, finding optimal solutions that would meet their demands. Sometimes the client needs a sound technical solution and in the minimal timeframe; this is wh ere our fast 3D modelling and design helps, as it provides the client with innovative designs and associated drawings from which they can manufacture the required components and then implement on site. During our collaboration with clients from all around the globe we are constantly encountering differing requirements demanding unique solutions.
Among other solutions we may provide different types of attachments and extensions:
Attachments for busbar connection;
Side and rear attachments to facilitate incoming cable;
Extensions to accommodate instrument transformers;
Top installations.
Tavrida Electric Export always guarantees the following in a project design:
Safety milestones;
Flexibility in solutions within the shortest time period;
Sound technical solutions with 3D models and schematics;
Reliability by utilizing proven components.