Retrofit project successfully completed at Jeddah II Desalination & Power Plant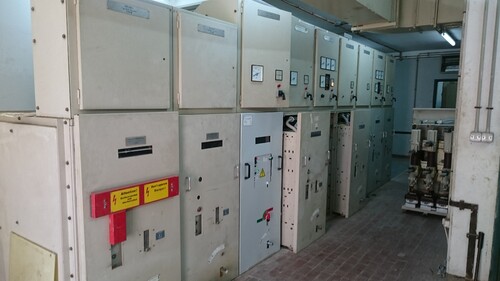 Tavrida Electric Export has successfully completed a Turn-key project for one of the largest electricity producing and distribution companies in the Kingdom of Saudi Arabia (KSA) - Saline Water Convention Corporation (SWCC) at Jeddah II Desalination & Power Plant. This is one of nine dual system plants in Saudi Arabia that generates about 3,600 MW per day or 33% of total power generation in the country. The plant was commissioned in 1978. Companies from all over the world were involved in the designing and building of the plant. Equipment was supplied from Japan, USA and Western European countries and met the highest quality and reliability requirements. From the date of commissioning over 30 years have passed and the time has come to replace the worn-out equipment with new. The requirements to the supplier were strict – high quality, reliable equipment, over 10 years of retrofit experience and ability to provide a turn-key project in the shortest period of time without compromising quality.
Tavrida Electric Export was chosen as a reliable manufacturer of retrofit solutions with over 25 years of experience in this field. Tavrida Electric vacuum circuit breakers are known as one of the most reliable switching apparatus with largest mechanical and electrical lifespan of 30 000 CO operations and also with the longest life expectancy of 30 years without maintenance.
The project included the complete replacement of worn-out trucks that used oil circuit breakers (BBC ZE and Siemens 8DB1) with new trucks incorporating Tavrida maintenance-free vacuum circuit breakers.
TEE scope of work for this project consisted of:
Site visit for existing breaker's condition analysis, overall review and measurements;
Development of brand new trucks with Tavrida VCB;
Design of a secondary wiring project for the implementation of Tavrida VCB into the control circuits of the existing switchgear panels;
Routine tests at the manufacturer's factory;
Factory acceptance testing and end-user training course;
Site acceptance tests at the site in Jeddah;
Installation and commissioning at the site.
Tavrida Engineers visited the site to take measurements of the overall dimensions of the existing switchgear panels and breakers. Also, a detailed study of the existing interlocks, their logic and operating sequence has been done to ensure that the new trucks would fully comply with the originals. Samples of the breakers were also available at the Tavrida Electric Export factory to make sure that no errors were made during design and development of the new circuit breakers.
New trucks with Tavrida ISM15_Shell2 circuit breakers were designed as a complete replication of the original BBC and Siemens circuit breakers. It was necessary to maintain the operation of the new CBs the same as the original. As a result of precise and coordinated design work, the Tavrida retrofit version of the BBC and Siemens CBs are fully compatible with the existing switchgear panels and moreover no legacy switchgear panel modification is required. An additional requirement fr om the customer was for interchangeability with all existing breakers of the same rating, even for those panels where the original breakers could not be interchanged due to misalignments caused by panel initial installation and/or original trucks insufficient adjustment capabilities. Tavrida VCBs were provided with flexible adjustment capabilities to be able to fit the CBs into every panel with minimum effort. The Tavrida CB contact system had flexible adjustment capabilities in X, Y and Z planes. Installation of the new trucks would be very easy and fast which made it a perfect solution wh ere power outage-time for installation would be brought to a minimum.
Tavrida Electric vacuum circuit breakers are known worldwide not only for their acclaimed magnetic actuators, which guarantee unbeatable performance and compact design, but also for the simplicity of an auxiliary control interface. The wiring diagrams for this project ensured a very simple and clear adaptation to the existing supply, control and protection circuits. It required only minor adjustment of the existing circuits to maintain the possibility of connecting the original breakers.
All new circuit breakers were routinely tested at the Tavrida Electric Export factory as per IEC 62271-200 standard. Routine tests included:
Main circuit resistance measurement;Insulation resistance measurement;
Power frequency high voltage withstand test at primary circuits at 38kV, 50Hz;
Power frequency high voltage withstand test at secondary circuits;
Mechanical and operational tests;
Partial discharge test;
VCB operations speed test;
Functional test;
Visual check;
WD and electromechanical check.
All tests were successfully conducted at the Tavrida Electric Export factory with Tavrida Electric Export owned testing equipment.
In close cooperation with the Saudi United for Mechanical Electrical & Electronics Industries Corp. and Arabian Qudra, Tavrida Electric Export successfully installed and commissioned BBC (Calor Emag) ZE4 retrofit circuit breaker for Switchgear BA1-SE24 in the Jeddah II Desalination & Power Plant and Siemens retrofit circuit breaker for Switchgear 8BD1 located in a residential area.
The complete project was implemented in 4 months starting from placing the order and ending with installation and commissioning of the finished product. The main goal was to keep the client satisfied with the provided products and services. This was achieved through the well-coordinated work of Tavrida Electric engineers and their partners in KSA. As a result of a well-done job, new orders from SWCC for BBC and Siemens breakers are expected in the near future.