Vacuum Circuit Breakers 12 - 24 kV
Tavrida Electric Vacuum Circuit Breakers
Highest Reliability
Tavrida Electric's circuit breakers offer unrivalled reliability. Unlike other circuit breakers, they continuously monitor all secondary circuits. In the unlikely event of a malfunction, the circuit breakers will accurately indicate it locally with LED and remotely via relay contacts. Service team can fix a malfunction before it leads to a problem.

Fastest operation
Tavrida Electric's circuit breakers are the fastest on the market with opening times of 12 ms or less and closing times of 24 ms or less*. There's no better way to: minimize the risks to personnel or members of the public; minimize damage to switchgear and other network equipment; limit the fault's current level; or reconnect critical loads to an alternative power supply.

Highest efficiency
Tavrida Electric's circuit breakers are the most efficient on the market, evidenced by their impressive record of 50,000 CO operations at rated current and 100 full-rated short circuit operations without requiring maintenance.

Operates in any orientation, most compact dimensions
Tavrida Electric's circuit breakers operate reliably regardless of their orientation. The overall dimensions of the 17.5 kV circuit breaker do not exceed 579 x 695 x 300mm (H x W x D). The 24 kV circuit breaker does not exceed 549 x 690 x 300mm. These dimensions make them the perfect choice for newly developed switchgear or retrofit solutions.
DESIGN AND OPERATION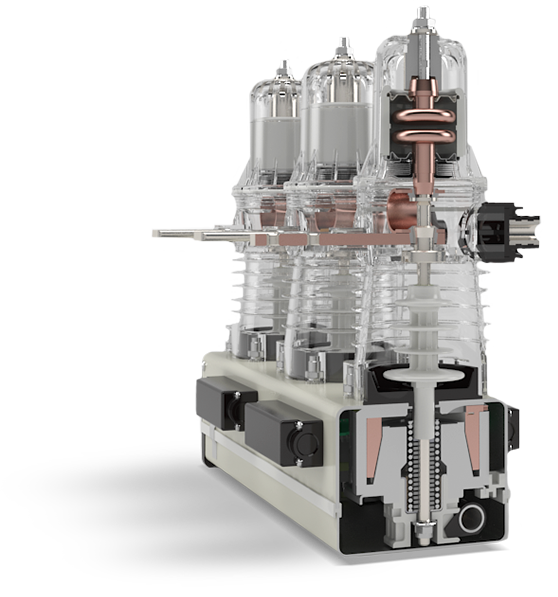 1
2
3
4
5
6
7
Tavrida Electric manufactures small, compact vacuum interrupters with an extraordinarily long mechanical and electrical lifespan. A specially designed axial magnetic field distribution provides an even current density over the contact surface, substantially improving the vacuum interrupting performance.

More

Vacuum interrupter contacts have unique design, based on the mixture of copper and chromium metals and various dopants, to ensure long electrical life of contacts, low contacts resistance and chopping current.

More

The patented, super-compact actuator design allows the circuit breaker to be installed directly underneath each pole. The design is optimal in terms of reliability, dimensions, weight and ease of installation.

More

A spring charged by the magnetic actuator during the closing of the circuit breaker ensures main contacts pressure is maintained. The spring is integrated in the actuator and does not require any maintenance during the circuit breaker's lifetime.

More

Circuit breaker terminals are designed to reduce contact resistance and mitigate the risk of contacts overheating.

More

The use of robot welded steel discs as opposed to folded bellows eliminates the main failure point of conventional circuit breaker designs and allows interrupter to do more than 150,000 CO cycles and contain high vacuum (10-6 Pa) for the entire lifetime.

More

Tavrida Electric realized early on that the complexity and bulk of conventional operating mechanisms made them unreliable and reduced their lifespan. Every Tavrida Electric circuit breaker uses patented actuators designed and fabricated within our own facilities to drive the interrupter contacts. All switching elements of a pole are assembled along a single axis meaning all mechanical movements are direct and linear.

More

Continuous self-supervision. Vacuum circuit breakers equipped with the CM16 control module continuously monitors control, switching modules, functional wiring and auxiliary power supply quality. CM16 eliminates the necessity of additional trip and close coils, charging mechanisms and all related wiring supervision. The whole trip and close circuit supervision comes in single package with any Tavrida Electric VCB. CM16 allows the user to forget about scheduled trip and close wiring inspections - as in the event of malfunction corresponding notification will be sent to the operator using one of the inbuilt output relays and indicated by inbuilt in CM LEDs.
Low power consumption. Vacuum circuit breakers equipped with the CM16 control module need less than 42 W in charging mode – just 10% of what the best alternatives available on the market need! Such low power consumption finally solves the problem of auxiliary power supply – much less powerful source and UPS can now provide substation auxiliary equipment with required power.
Ease of use and robustness. CM16 type control modules are connected with the circuit breaker they control and supervise be means of simple wires. It allows the CM installation to be located at any position convenient for the OEM, system integrator or End-user location. Very compact dimensions and low weight further simplify the process. CM16 has a robust design, enclosed in an aluminium housing it provides high EMC level confirmed by KEMA test laboratories.
*Compared with a standard breaker's opening and closing times of ≤ 35 ms and ≤ 70 ms respectively.